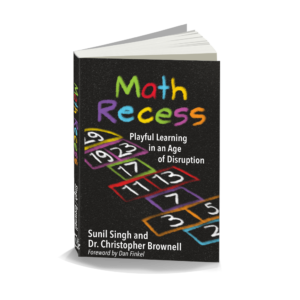 Information/links on the following games.  Some are online virtual games, some just information on where/how to purchase:
Best Tech — Websites listed in Chapter 4
Bovine Math — or, "The Greatest K to 12 Math Problem Ever!"
Tangram-style puzzle pieces
The Sites we go to "over and over" again:
"Chris and Sunil would like to Thank Heidi Allum for her Efforts to Bring all these Resources Together on One Page".
Chapter Five: Finn-N-Funn
Chapter Seven: Mind Blown
Chapter Nine: Pure Imagination
Chapter Six: Storytelling
Chapter Eight: The Rabbit Hole
Chapter Ten: Why Can't We Be Friends?
Mathematics is wonder-filled, awe-inspiring, joy inducing playground of the mind is the claim of this book. In stark contrast to most peoples experience with this subject Singh and Brownell paint a picture of a system of playing with ideas, relationships, numbers, and shapes that has fascinated humanity for literally 1000's of years.